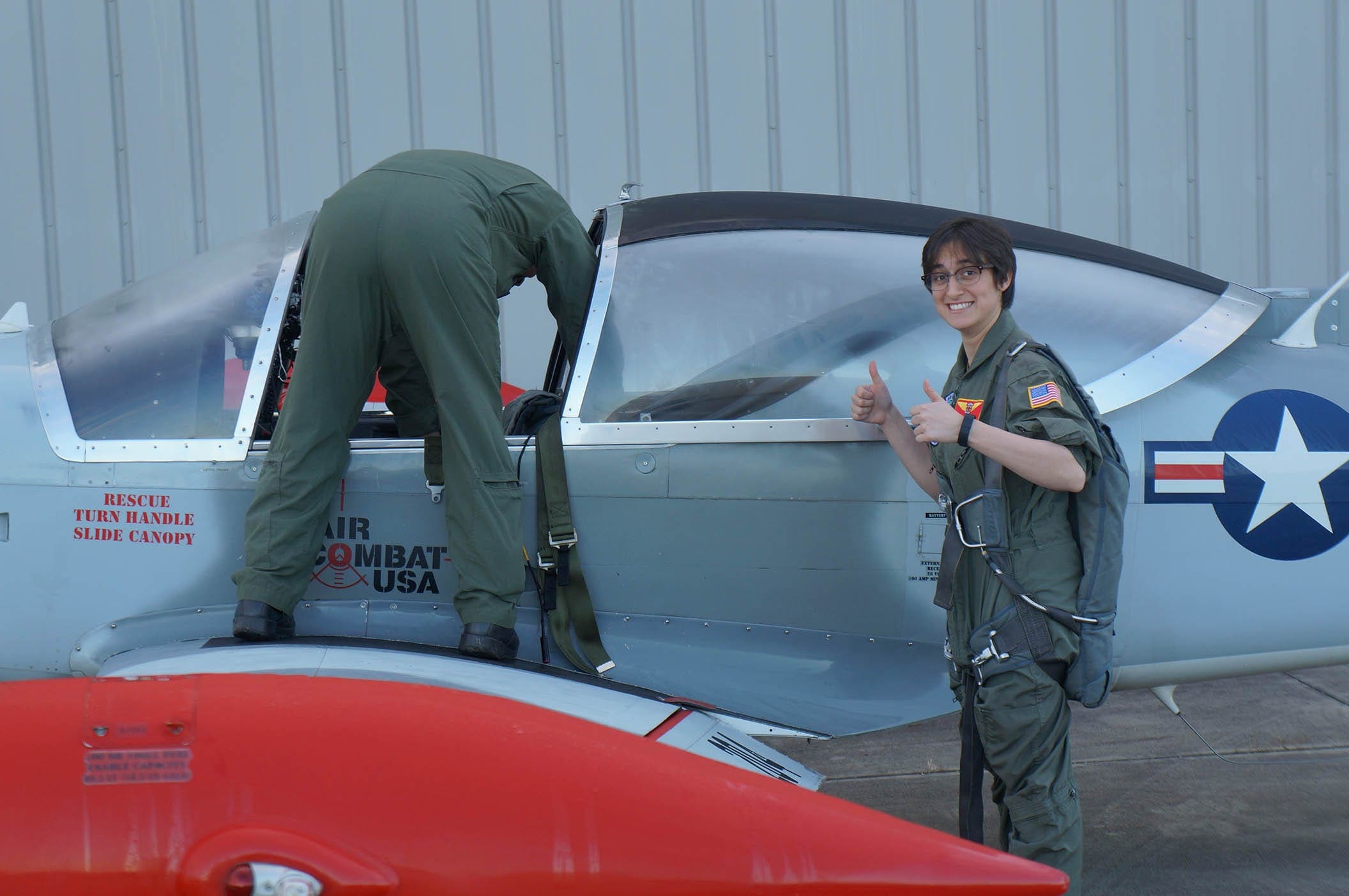 Science writer Miriam Kramer (JEM/'11) headed to Cape Canaveral, Fla. in early December to cover the AXE Apollo Space Academy for SPACE.com.
Designed to give away 23 seats aboard the XCOR Aerospace Lynx spacecraft, the space camp put recruits through a g-force simulator, air combat training and Zero-Gravity parabolic flights.
Kramer took part in the training as part of her assignment—one that she describes as anxiety-inducing and unique.
Outfitted in a personalized flight suit, Kramer experienced the intense pull of four Gs and 10 seconds of weightlessness as she flew in a Marchetti SF 260 fighter jet alongside former Air Force pilot Russell Campbell.
"I was so scared before we left the tarmac. I actually lost sleep over it the night before because I was awake worrying about what it would be like," said Kramer, who filmed her thrill ride and later wrote about the experience of pulling Gs
"I'm not really an adrenaline junky or risk taker so flying in a two person 'trainer aircraft' was definitely well outside my comfort zone, but I knew it was an experience I needed to push myself to have," she said.
Kramer also had the opportunity to fly a Zero-G flight designed to produce 30 seconds of weightlessness on each downslope of a parabola. A series of parabolas simulated Martian gravity and what gravity on the moon would be like.
"This was definitely the most extreme assignment I've ever had, but I must admit, my job affords me the opportunity to do some really awesome things," she said.
During her first year as a staff writer for SPACE.com, Kramer has witnessed three rocket launches and covered stories about dangerous asteroids and life in space—but nothing compares to her latest action-packed assignment.
"I spend a lot of my time reporting on astronauts and their extreme adventures, so it was really great to get a taste of just a very tiny portion of what they have to go through for their jobs," said Kramer.