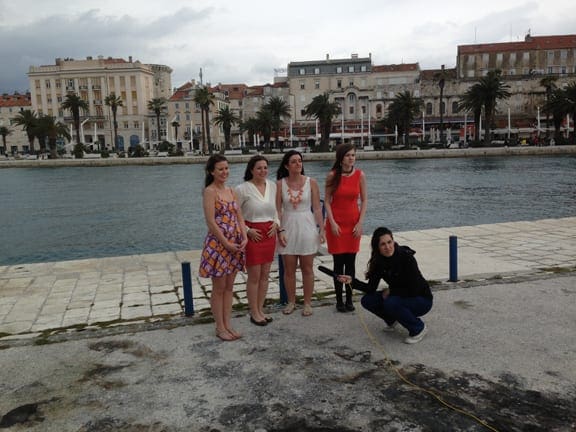 Four students from the School of Journalism and Electronic Media produced a 30-minute program while studying in Croatia earlier in March. It will air on WBIR on Easter Sunday, April 20.
The program will be part of the UT TODAY show that airs at 11:30 a.m. It will be repeated on 10News2 at 9:30 p.m. on Monday, April 21.
JEM students involved in the project were senior Marissa Steinberg, senior Jackie DelPilar, junior Abby Knight, and junior Malorie Cunningham. Their trip was part of an exchange funded by a U.S. State Department grant and led by JEM Director of Internationalization and Outreach Sam Swan.
The students worked alongside students from the University of Zagreb in Croatia and the University of Missouri School of Journalism to produce stories both for an American audience and a Croatian audience. Their work yielded 12 stories covering subjects from the origins of the necktie to the history behind the Balkan War between Serbia and Croatia.
The exchange program is designed to promote improved international reporting and understanding.
"All four of the UT students experienced travel outside of the US for the first time on this trip," Swan said. "Their eye-opening experiences in Croatia will help them fast-track their personal and journalism maturity while teaching them to see the world through the eyes of others."