While spring break is traditionally a time to hit the beach or travel to warmer climates, students from the school of Journalism and Electronic Media recently spent their break learning from industry professionals in New York City.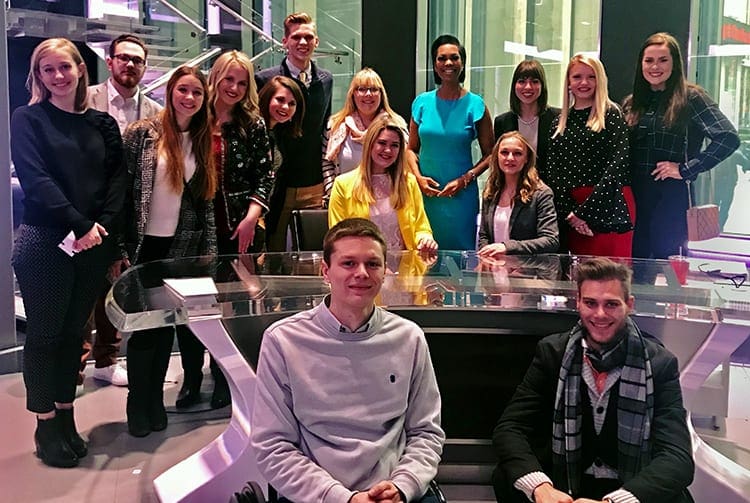 Organized by the student-led university chapter of the Society of Professional Journalists, Dr. Catherine Luther, and Professor Stuart Brotman, the trip took fourteen students — spanning broadcast, visual communication, sports journalism, and academic research concentrations — to the historic nexus of the media industry.
Students participated in a packed week of tours and panel discussions at NBC, ABC, CNN, Fox News, Bloomberg, Facebook, the Food Network, Madison Square Garden, and the International Radio and Television Society. They also received the opportunity to network with UT alumni working in New York at an alumni reception. Additionally, they attended several live tapings for Late Night with Seth Meyers, The Daily Show with Trevor Noah, Good Morning America, and Megyn Kelly Today.
"Growing their network, or starting their network, these are people you aren't going out on the street and meeting every day," said Jake Albright, junior in Journalism and Electronic Media, and president of the SPJ chapter at UT. "Meeting with these individuals, and connecting with them regarding your interests, that can potentially lead to a job one day."
Dr. Luther, who helped organize and coordinate the trip, is hoping to make this a yearly opportunity available to students actively participating in the student SPJ chapter.
Students who attended the trip were Jake Albright, Beverly Banks, Rebecca Castle, Anslee Daniel, Olivia Eddy, Jake Elkins, Savanna Jacoby, Elizabeth Longmire, Samantha Maneri, Nathan Odom, Nicole Painter, Jared Sebby, Ashley Sharp, and Savannah Smith. They were overseen by Dr. Luther and Professor Brotman.