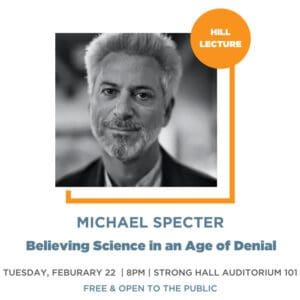 Michael Specter, Science Writer for The New Yorker and winner of 8 international awards for his work, will speak on "Believing Science in an Age of Denial" when he delivers the 29th annual Alfred & Julia Hill Lecture at 8 p.m. on Tuesday, February 22 at the University of Tennessee, Knoxville. The event, which is free and open to the public, will be held in Strong Hall Auditorium (Room 101) on White Avenue.
More information…
---
The Alfred & Julia Hill Lecture Series on Science, Society, and the Mass Media was established in 1989 by Tom Hill, former publisher of The Oak Ridger, and Mary Frances Hill Holton in honor and memory of their parents.
Alfred and Julia Hill founded The Oak Ridger in 1949, seven years after the government established Oak Ridge to house workers on the atomic bomb project. The Oak Ridger was the first successful privately owned newspaper in the city and marked an important stage in the transition of Oak Ridge from federal operation to private ownership and self-government.
Tom Hill and Mary Frances Hill Holton were also the principal benefactors of an endowment for the School of Journalism and Electronic Media in 1987 to match State of Tennessee contributions to establish the Julia G. and Alfred G. Hill Chair of Excellence Professorship in Science, Technology, and Medical Writing and the Science Communication Program at the University of Tennessee.
---
Hill Lecture History
March 23, 2021
Anu Garg, Founder of Wordsmith.org
Language Myths & Hoaxes: A Humorous Look at Language Misconceptions
March 31, 2020
Robin Lloyd, Scientific American Writer and Editor
The End of Investigative Science Writing?
(Cancelled due to COVID-19 pandemic)
April 2, 2019
Sarah Holt , Scientific, and Historical film work
Turning Complex Science Stories into Compelling Television
April 10, 2018
Mark Schleifstein, The New Orleans Advocate, Environmental writer
Covering the environment as the media transforms around you
April 4, 2017
Joel Achenbach, Washington Post science writer
Navigating the Era of Fake News, Pseudoscience, and Bunk
March 29, 2016
Virginia Hughes, BuzzFeed News science editor
In Defense of Clickbait
March 24, 2015
Joe Palca, Science Correspondent for National Public Radio
Explaining the Universe in Two Minutes or Less
March 11, 2014
Ron Winslow, Medical Writer for The Wall Street Journal
Covering Science: Worst of Times, Best of Times
April 2, 2013
Jeffrey Kluger, Science Writer for Time magazine
Science as Civilizer
March 13, 2012
Stephen S. Hall, New York Times Magazine writer
Alternate Universes: Different Ways of Thinking about Science – and Science Journalism
April 12, 2011
Michael Waldrop,  Nature editor
Lessons My Stories Taught Me
March 16, 2010
Richard Harris, National Public Radio
Covering Climate Change in a Changing Media Climate
March 31, 2009
Tom Siegfried, Science News magazine
Odds Are, It's Wrong: The Misuse of Math in Science, Medicine, and the Media
March 25, 2008
Alan Boyle, Science Editor for MSNBC.com
Britney Spears vs. Chimps with Spears: Taling about Science in a Tabloid Culture
2007
Robert Krulwich
What a Reporter Learns from Dylan, Coltrane, and Chumbawamba: Journalism as Music
2006
Michael D. Lemonick
Crank or Genius – How Does a Science Writer Tell the Difference?
2005
Jonathan Weiner
On the Writing of His Brother's Keeper: A Story from the Edge of Medicine
2004
Paula Apsell
What's Hot, What's Not in Science Programming
2003
John Rennie              
Naysaying the Nincompoops: On Being a Maven in a Misinformed Era
2002
David Quammen            
Midnight in the Garden of Fact and Factoid
2001
Sharon Begley            
Why Science Journalism Isn't Science
2000
John Noble Wilford      
Science Journalism Across Two Centuries
1999
Robert Kanigel           
The Perils of Popularizing Science
1997
Jon Franklin             
The End of Science Writing
1996
Jim Detjen               
Environmental News: Where Is It Going?
1994
Victor Cohn              
Reporting – Good and Bad – on Health in America
1993
Gina Kolata              
Medical Reporting: Where the Story Lies
1991
Dorothy Nelkin           
Risk Communication and the Mass Media
1989
John Noble Wilford      
Science as Exploration