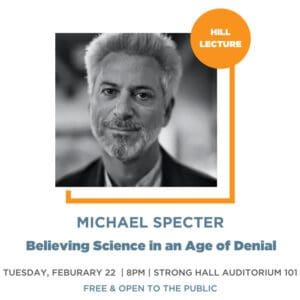 Michael Specter, Science Writer for The New Yorker and winner of 8 international awards for his work, will speak on "Believing Science in an Age of Denial" when he delivers the 29th annual Alfred & Julia Hill Lecture at 8 p.m. on Tuesday, February 22 at the University of Tennessee, Knoxville.  The event, which is free and open to the public, will be held in Strong Hall Auditorium (Room 101) on White Avenue.
Specter is the author of Denialism: How Irrational Thinking Hinders Scientific Progress, Harms the Planet, and Threatens Our Lives
Since joining The New Yorker in 1998, Specter has written often on public health and science.  Among his subjects have been the global AIDS epidemic, as well as several other pandemics ranging from avian influenza to covid.  His profile subjects include Anthony Fauci; Ingrid Newkirk, founder of PETA; Richard Branson, aerospace entrepreneur; Peter Singer, animal rights philosopher; Mehmet Oz, celebrity doctor; and many others.
Back to Alfred & Julia Hill Lecture Series on Science, Society, and the Mass Media