Hands On from Day One
With a commitment to cutting-edge education, the School of Journalism and Media prepares students to excel in today's rapidly changing media world. Our renowned faculty brings real-world expertise to the classroom, ensuring students receive a high-quality education that blends tradition with innovation. Our students have access to a variety of in-college media outlets such as The Daily Beacon, WUTK-FM, Lumos Media, Land Grant Films, Ablaze Magazine, WUOT-FM, and more. This enables them to gain real-world experience in their chosen discipline and be #HandsOnFromDay1.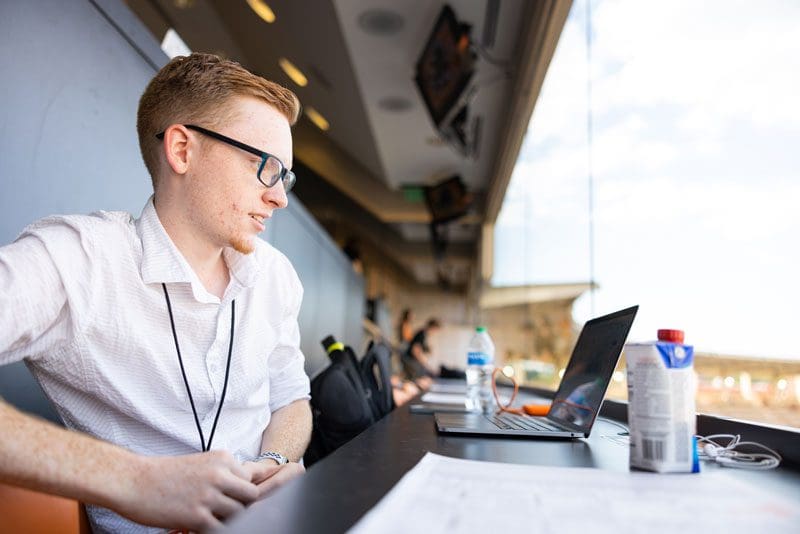 I engaged in numerous hands-on experiences at the School of Journalism and Media that have significantly helped me begin my career before I even graduated. Getting to do real-world work as an underclassman shaped my skills and gave me a step up in the job market."
Jack Foster
undergraduate student at the School of Journalism and Media
JEM News
Award-winning Sports Writer and Broadcast Journalist Gene Wojciechowski Joins CCI Faculty
Award-winning sports writer and broadcast journalist Gene Wojciechowski ('79) has returned to the University of Tennessee, Knoxville, numerous times during his nearly 26-year career at ESPN. He typically makes time to stop at the College of Communication and Information—where he developed the foundational skills that propelled his career in journalism—to offer students career advice and perspective, as well as reflect on his own career experiences. But the next time he visits CCI, it'll be as a faculty member in the School of Journalism and Media. Wojciechowski has accepted a position as a full-time professor of practice as the Edward J. Meeman Distinguished Professor, starting August 2024.
JEM Events