Hands On from Day One
With a commitment to cutting-edge education, the School of Journalism and Media prepares students to excel in today's rapidly changing media world. Our renowned faculty brings real-world expertise to the classroom, ensuring students receive a high-quality education that blends tradition with innovation. Our students have access to a variety of in-college media outlets such as The Daily Beacon, WUTK-FM, Lumos Media, Land Grant Films, Ablaze Magazine, WUOT-FM, and more. This enables them to gain real-world experience in their chosen discipline and be #HandsOnFromDay1.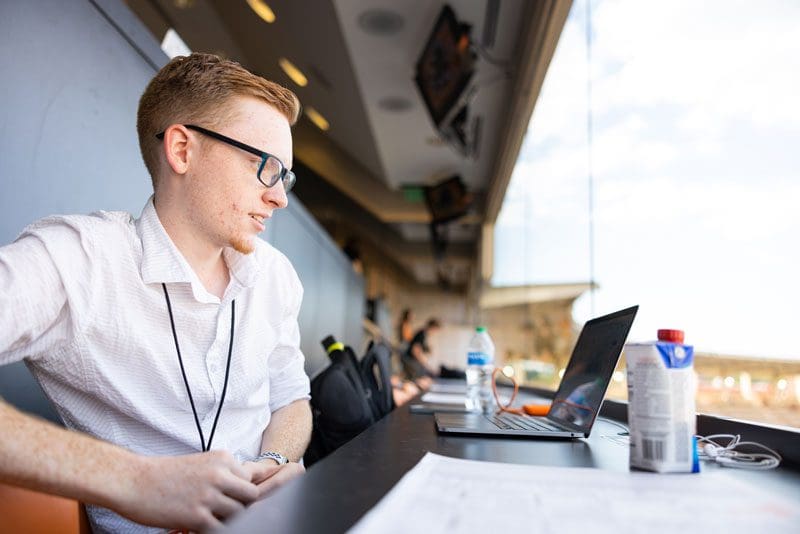 I engaged in numerous hands-on experiences at the School of Journalism and Media that have significantly helped me begin my career before I even graduated. Getting to do real-world work as an underclassman shaped my skills and gave me a step up in the job market."
Jack Foster
undergraduate student at the School of Journalism and Media
JEM News
New Name, Same Mission: Introducing the School of Journalism & Media
In 1923, the first journalism classes at the University of Tennessee, Knoxville, were offered through the English Department.
Since then, the curriculum has continually adapted to prepare students to excel in the media environment of the day. The first major change was the establishment of the Department of Journalism in the College of Business Administration in 1947, which later became the School of Journalism in 1957.
Following the addition of the Department of Broadcasting in 1970, the two programs then merged to form the School of Journalism and Electronic Media in 2003.
Now, starting in August, the school is changing its name to the School of Journalism and Media to better reflect the breadth of media opportunities available to all students through the school's expanding curriculum.
JEM Events