Luther to Participate in Prestigious TV Academy Foundation Program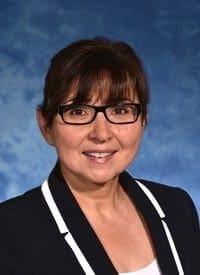 Catherine Luther, director of the School of Journalism and Electronic Media in the College of Communication and Information, is among 25 professors nationwide chosen to participate in the Television Academy Foundation's 2018 Faculty Seminar Program.
The faculty fellows will gain the latest information on the television and content development industries from top entertainment professionals during a weeklong seminar in Southern California in November.
"It is such a privilege to have been selected for this wonderful program," Luther said. "I hope to gain insight into the current undertakings in the entertainment industries and bring that knowledge back to my unit."
The seminar will include panel discussions with broadcast and cable network programming and scheduling executives, legal experts, and cutting-edge content creators. Private studio tours and trips to top Hollywood production facilities to meet with producers, observe production, and get firsthand updates on television technologies are also part of the program.
Before entering academia, Luther worked in the United States and Japan as a television news producer. She is the author of three books, the most recent being the second edition of Diversity in U.S. Mass Media, published in 2017. She conducts research on the intersections of media, gender, and race and ethnicity as well as issues involving global communication. Luther has received several awards including the UT Chancellor's Award to attend the HERS Institute at Bryn Mawr; the UT Notable Woman Award recognizing excellence in administration, research, and teaching; and a Fulbright grant to conduct research in Japan.
Established in 1959 as the charitable arm of the Television Academy, the Television Academy Foundationis dedicated to preserving the legacy of television while educating those who will shape its future through an oral history program, faculty seminars and student internships, and awards.