International War Reporting Symposium
Please join The School of Journalism and Electronic Media for the International Reporting Symposium: War in Ukraine, a two-day event featuring a panel of Ukrainian and U.S. journalists and a keynote with Nick Shifrin, PBS New Hour's foreign affairs and defense correspondent.
[clear]
---
[clear]
Day 1, April 27 – Global Correspondents Panel via Zoom
9:45-11 a.m.
International correspondents covering the war in Ukraine will be part of a virtual discussion panel at the School of Journalism and Electronic Media.
Journalists from Ukraine and the U.S. will discuss how they have covered the conflict for the leading media in the world. They will also offer social, historical, and cultural insights into the region. 
Ukrainian journalist Halyna Yakushko will give an in-depth understanding of reporting from the frontline, including places such as Bakhmut. International correspondent and anchor Amien Essif, a UTK alumnus, will share his experience of covering the war for Deutsche Welle, one of the leading media outlets in Europe. What is behind closed doors in politics? Iuliia Mendel, a former press secretary to Ukrainian President Zelenskyy, will offer a peek behind the curtain.
Panelist
Amien Essif is an international correspondent and anchor for Deutsche Welle, one of the leading media outlets in Europe, based in Berlin. He has been a special correspondent for Deutsche Welle in Ukraine since the first weeks of the full-scale war. He has also contributed to the Guardian and Aljazeera. Essif earned a bachelor's degree in English literature and French studies from the University of Tennessee-Knoxville in 2012. 
[clear]
Iuliia Mendel is a Ukrainian journalist and political advisor. She was the press secretary in the administration of Ukrainian president Volodymyr Zelenskyy from 2019 until 2021. Mendel has more than 14 years of journalism experience on TV and in print media, and her writing has appeared in The New York Times, The Washington Post, VICE, Politico Europe, and many more.
[clear]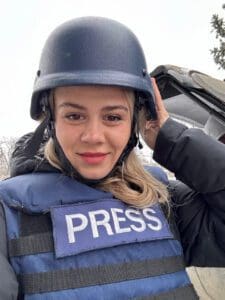 Halyna Yakushko is a Ukrainian journalist with more than 8 years of experience. She has been working for the Canadian Broadcasting  Corporation. Yakushko is also a freelance correspondent at Current time, Radio Liberty, BBC Ukraine, and Belsat TV. She has been covering the war in Ukraine from the frontline since the start of it.  
[clear]
---
[clear]
Day 2, April 28 – Keynote Speaker: Nick Schifrin
Noon-1:30 p.m
International House, Great Room
1623 Melrose Place, Knoxville, TN 37996
Award-winning journalist Nick Schifrin is the foreign affairs and defense correspondent for PBS NewsHour, based in Washington, D.C. He is part of the team from the NewsHour that won the 2023 duPont-Columbia Award for its extensive coverage of the war in Ukraine and the aftermath of the Taliban's takeover of Afghanistan.
Schifrin will share insights about reporting from the front lines and across Ukraine for the NewsHour. Shifrin will also moderate discussion about the political, social and economic implications of the war with leading scholars from the University of Tennessee-Knoxville whose research focuses on Ukraine, Russia, and Eastern Europe. 
[clear]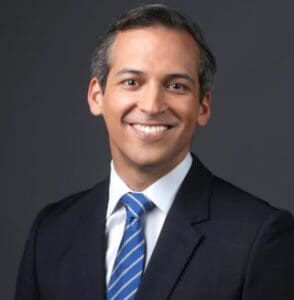 Nick Schifrin is the is the foreign affairs and defense correspondent for PBS NewsHour, based in Washington, D.C. He leads NewsHour's foreign reporting, including multiple visits to Ukraine since Russia's full-scale invasion, and has created week-long, in-depth series for NewsHour from China, Russia, Ukraine, Nigeria, Egypt, Kenya, Cuba, Mexico, and the Baltics. The PBS NewsHour series "Inside Putin's Russia" won a 2018 Peabody Award and the National Press Club's Edwin M. Hood Award for Diplomatic Correspondence. In November 2020, Schifrin received the American Academy of Diplomacy's Arthur Ross Media Award for Distinguished Reporting and Analysis of Foreign Affairs.

[clear]
Panelist and UTK scholars 
Nataliia Yakushko is a Ph.D. student at the Haslam College of Business.She studies how small-business owners in Ukraine are coping amid the ongoing war. She has been coordinating relief efforts for Ukrainian people since the start of Russia's invasion. She is originally from Ukraine.
[clear]
Dr. Elis Vllasi is a senior research associate at the Baker Center. His current research interests involve examining Russian hostile influence in the Balkans. Dr. Vllasi's interests also include Chinese/Russian influence operations, transnational ethnic links and their effect on democratization, and Western military intervention and nation-building. 
[clear]
Dr. Natalie Rice is a researcher at the CCI Research and Innovation Center. She focuses on the use of digital and social media disinformation and propaganda; she is also interested more broadly in Russia's foreign policy, its influence campaigns and the resulting impacts on global security. She is originally from Belarus.
[clear]
Dr. Vejas Gabriel Liulevicius is a Lindsay Young Professor of history. He specializes in modern German history, with a particular focus on German relations with Eastern Europe. Professor Liulevicius has won the University of Tennessee's Excellence in Teaching Award and a National Endowment for the Humanities Fellowship. He has recorded ten lecture courses with the Great Courses company (www.thegreatcourses.com), also available on audible.com.