"Seize the day": JEM alum Ryan McGee delivers 2023 commencement address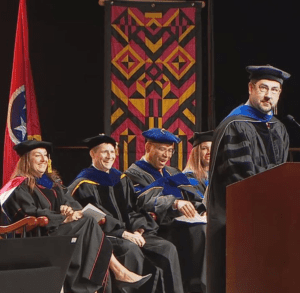 ESPN writer, broadcaster and School of Journalism and Electronic Media alum Ryan McGee ('93) encouraged the graduating class of 2023 to "seize the day."
Speaking at the 2023 College of Communication and Information commencement ceremony on Friday, May 19, McGee said there are those who put down today's generation and lament about the future. He believes those who buy in to these lowest denominator generalizations of Generation Z have not been among them.
McGee shared this generation never fails to inspire him with their energy, spirit, drive, love of life and ability to persevere even in the face of adversity. So, forget those titles, McGee said, and "go blow their doors off."
"It will not happen overnight," McGee said. "It will take patience. It will take perseverance. It will take a lot of days of sitting in a room with people who will roll their eyes at everything you say simply because of your birthdate. But what else is new? You've dealt with that your whole lives. Only now, you will do it while standing on a level playing field, college degree finally in hand."
McGee also encouraged the class of 2023 to take a moment to thank those who helped them reach where they are today. This could be friends, family, professors, staff members and even themselves.
JEM graduate Frederick (Fritz) Siegl said the past four years at the University of Tennessee, Knoxville has been some of the greatest in his lifetime. As he looks to the next chapter, he knows he will miss professors like Dr. Erin Whiteside and Dr. Michael Martinez, working at WUTK-FM, and other experiences.
Commencement day was a little emotional for JEM graduate Seth Reynolds. As he walked on campus before gathering in the Thompson-Boling Arena with his peers, Reynolds said he fondly reflected on his past experiences.
Reynolds will move on to start his new job as video production assistant at Jupiter Entertainment.
"It's surreal. It's crazy," Reynolds said. "I don't want to leave but I'm excited to move on."
To watch McGee's full address to graduates visit: tiny.utk.edu/tEoeH
(L to R) JEM faculty member Guy Harrison, JEM graduate Seth Reynolds, and CCI dean Joe Mazer
Ryan McGee and JEM student
Ryan McGee and JEM faculty
Ryan McGee at 2023 CCI Commencement