Amber Roessner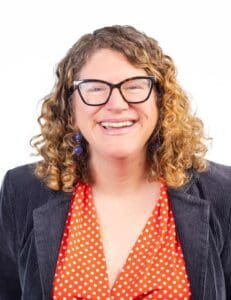 Professor
865-974-5142
A professor in the University of Tennessee's School of Journalism & Electronic Media, Dr. Lori Amber Roessner teaches and studies media history and its relationship to cultural phenomena and practices, including the operation of politics, the negotiation of public images and collective memories, and the construction of race, gender, and class.
Roessner teaches the introduction to journalism and creative media, mass communications history, media reporting, advanced reporting, literary journalism, advanced sports writing, and qualitative methods. Roessner was honored with the American Journalism Historians Association's 2017 Award for Excellence in Teaching.
Since 2014, she has published two books, including Inventing Baseball Heroes: Ty Cobb, Christy Mathewson, and the Sporting Press in America (LSU Press, 2014) and Jimmy Carter and the Birth of the Marathon Media Campaign (LSU Press, 2020), and co-edited Political Pioneer of the Press: Ida B. Wells-Barnett and Her Transnational Crusade for Social Justice (Lexington Books, 2018). Her earlier journal-length cultural histories appeared inJournalism & Mass Communication Quarterly and Journalism History, among others, contributing to her receiving the distinction of American Journalism's Inaugural Rising Scholar in 2014. Her 2020 Journalism History manuscript, "The Voices of Public Opinion: Lingering Structures of Feeling about Women's Suffrage in 1917 U.S. Newspaper Letters to the Editor," won the 2021 AEJMC History Division's Covert Award, an annual award for the best mass communication history article in the previous year.
More recently, she has served as a Faculty Fellow for the University of Tennessee's Division for Diversity & Engagement, where she studied and offered recommendations for mitigating invisible and emotional labor, and she is currently serving as the director for diversity, equity and inclusion within the School of Journalism & Electronic Media and president-elect for the University of Tennessee's Faculty Senate.
During her career in the journalism industry, Roessner worked as a sports writer for the Gainesville Times, where she earned a Georgia Associated Press Award for her coverage of the pressures associated with youth sports. Roessner later served as an associate editor of the Athens Magazine, the editor of Gainesville Life, and a freelance contractor for regional media organizations and non-profit public relations organizations, such as the United Way of Northeast Georgia. Roessner earned her masters of art and doctorate in mass communications at the University of Georgia's College of Journalism and Mass Communication in December 2006 and July 2010, respectively.
When she's not involved in teaching or academic pursuits, Roessner serves as an occasional contributor to media outlets. She also enjoys spending time with family, practicing yoga, hiking along the Appalachian Trail, and reading a good book.
Education
Doctor of Philosophy, Journalism & Mass Communication, July 2010
University of Georgia's Grady College of Journalism & Mass Communication, Athens, Ga.
Dissertation: Crafting 'Your Father's Idol': The Sporting Press and the Promotion of Baseball's Stars, 1900-1928
Advisor: Janice Hume.
Masters of Art, Journalism & Mass Communication, Dec. 2006
University of Georgia's Grady College of Journalism & Mass Communication, Athens, Ga.
Thesis: Sidelined by Gender—A Textual Analysis of the 2005-06 College Football Bowl Season
Advisor: Leara Rhodes.
Bachelor of Science, Education (Emphasis Sports Studies), Dec. 2003
University of Georgia, Athens, Ga.
Research Interests
History of media and mass communication
Sports writing
Political reporting