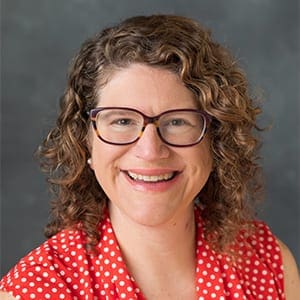 Professor - Director of Diversity, Equity, and Inclusion
327 Communications Building
865.974.5142
An associate professor in the University of Tennessee's School of Journalism & Electronic Media, Dr. Lori Amber Roessner teaches the history & principles of journalism and media, mass communications history, media reporting, depth reporting, literary journalism, and advanced sports writing. Roessner recently was honored with the American Journalism Historians Association's 2017 Award for Excellence in Teaching.
Her first book, Inventing Baseball Heroes: Ty Cobb, Christy Mathewson and the Sporting Press in America, was published by LSU Press in June 2014. Roessner currently is writing Jimmy Who? Jimmy Carter and the Practice of Presidential Press & Promotion in the Age of the Credibility Gap, to be published by the LSU Press. She is also co-editing a volume, Ida B. Wells-Barnett, Political Pioneer of the Press: Her Voice, Her Pen, and Her Transnational Crusade for Social Justice, to be published by Lexington Books.
Her cultural histories on the practice of mass communication and the role of American media in the production of mass icons have appeared in Journalism & Mass Communication Quarterly, Journalism: Theory, Practice & Criticism, Communication, Culture & Critique, Journalism History, and American Journalism, among others. Within these studies, she often considers the politics of memory, in particular the media's role in the construction of race and gender. Recently, Roessner and graduate student Lindsey M. Bier published "Pardon Me, Mr. Carter: Amnesty and Unfinished Business of Vietnam in Jimmy Carter's 1976 Campaign" in the summer 2017 issue of Journalism History.
During her career in the journalism industry, Roessner worked as a sports writer for the Gainesville Times, where she earned a Georgia Associated Press Award for her coverage of the pressures associated with youth sports. Roessner later served as an associate editor of the Athens Magazine, the editor of Gainesville Life, and a freelance contractor for regional media organizations and non-profit public relations organizations such as the United Way of Northeast Georgia. Roessner earned her master's of arts and doctorate in mass communications at the University of Georgia's Grady College of Journalism in December 2006 and July 2010, respectively.
When she's not involved in teaching or academic pursuits, Roessner serves as an occasional contributor to media outlets. She also enjoys spending time with family, practicing yoga, hiking along the Appalachian Trail, and reading a good book.
Education: 
Doctor of Philosophy, Journalism & Mass Communication, July 2010
University of Georgia's Grady College of Journalism & Mass Communication, Athens, Ga.
Dissertation: Crafting 'Your Father's Idol': The Sporting Press and the Promotion of Baseball's Stars, 1900-1928
Advisor: Janice Hume.
Masters of Art, Journalism & Mass Communication, Dec. 2006
University of Georgia's Grady College of Journalism & Mass Communication, Athens, Ga.
Thesis: Sidelined by Gender—A Textual Analysis of the 2005-06 College Football Bowl Season
Advisor: Leara Rhodes.
Bachelor of Science, Education (Emphasis Sports Studies), Dec. 2003
University of Georgia, Athens, Ga.
Magna Cum Laude graduate, GPA 3.73.
Research Interests: 
History of media and its intersection with American culture and collective memory
The practice of mass communications, in particular sports and politics
Race, gender, class & the mass media
Critical & cultural studies