Two years later: JEM Alumni receive Emmy nomination for Vietnam Veteran War documentary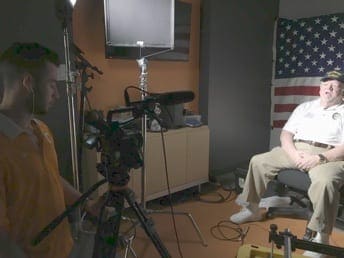 Often times, moments in history are forgotten and so are the people in them. As journalists, it is our job to make sure the moments and people are remembered for years to come. And, that is just what two recent University of Tennessee graduates did as journalism and electronic media students.
Isaac Fowler and Tim Morris, created a Vietnam War Veteran documentary titled "Welcome Home Brother" while working as undergraduates with the School of Journalism & Electronic Media's documentary program: Land Grant Films. Dr. Nick Geidner, JEM associate professor and director of Land Grant Films, was executive producer and Clint Elmore, JEM video specialist, was segment producer for the documentary. Funding for the project was provided by various sources including a grant from East Tennessee PBS (ETPBS) via Land Grant Films. Throughout the project, Fowler and Morris were mentored by JEM alumnus ('97) and Academy Award-winning documentary producer Rich Middlemas.
The team worked tirelessly on the majority of the film over the summer of 2017––between junior and senior year for Fowler and Morris. While their original story idea is what landed them the grant from ETPBS, they had to scrap it and come up with another idea.
"When we initially applied for the grant, our story was initially about a Tennessee junior varsity football player who volunteered to serve in Vietnam," Fowler said. "That story fell through. We got in contact with his brother, but they wished to not be involved in the project.
Fowler and Morris both were student assistants in the athletics broadcasting department for Vol For Life Films (VFL Films) on campus throughout their entire undergraduate careers. Using their connections at VFL, they were able to make contact with Doug "Snapper" Morgan––a local Vietnam Veteran, and the biggest Vol fan Fowler has ever met. Through Morgan, Fowler and Morris were introduced to the Knoxville chapter of the Vietnam Veterans of America (VVA) and various members.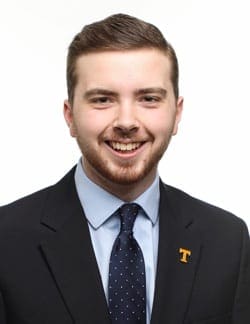 "He took us to a chapter meeting of the local VVA where we were able to meet and talk with several veterans," Morris said. "It was from here that we decided to make the story about how the VVA acts as a mouthpiece for veterans to have their voice be heard."
Fowler and Morris held preliminary interviews for twelve veterans from VVA and later narrowed it down to four that they would use in their production. Unfortunately, during the editing process they had to cut the fourth veteran from the documentary due to time constraints. The duo conducted various rounds of on-camera interviews in addition to shooting b-roll at the VVA meetings.
"The editing process was a bit strenuous because we had to go back and listen to all the interviews and pick out the best sound bites that were cohesive and told a story," Morris said. "With this being a historical film, we also had to track down a lot of pictures, stock footage, and other things to be able to use in the film."
Once finished, the film premiered at the East Tennessee Historical Society on Gay St. prior to the televised premiere on PBS. "Welcome Home Brother" was also selected by three film festivals, including the Nashville Film Festival.
Having it air on PBS was a very cool experience," Morris said. "I was able to watch it with a bunch of friends the night it aired and it was just surreal to see something that I created come on the television."
While having their documentary air on PBS and at the festivals was an honor for Fowler and Morris, nothing could ever compare to them finding out it was nominated for a MidSouth Regional Emmy.
"My initial reaction to the nomination was disbelief. It almost didn't seem real, still kind of doesn't," Morris said. "As it gets closer to Feb. 16, the excitement and anticipation grows. I know it will be a fun and unforgettable experience, no matter the outcome."
Fowler's most vivid memory from the whole experience was receiving the call from Morris about their nomination.
Learning of the Emmy nomination has definitely been the most exciting part of the journey so far" Fowler said. "We can't wait for the awards gala in February and we're hoping to bring home an Emmy statuette."
The two have worked together and been close friends since freshman year. Morris described working together was "natural" and said their skill sets complemented each other.
"[Morris] and I have been partners in crime for over four years now," Fowler said. "So working on this project with him was a lot of fun. We work really well together.
Since graduation, both continue to work with Land Grant Films and have also gotten full-time jobs in video production.
"We're currently finishing another Land Grant Films produced documentary with a PhD student, Natalie Welch, about Cherokee women and their traditional Cherokee sport, stickball," Fowler said.
The Emmy Gala will be Feb. 16 in Nashville.
"We never imagined we'd still be doing things regarding this film almost 2 years later. We have been very blessed," Morris said.