Successful Alumni: From Naps to News, Claire Dodson's journey took her to Teen Vogue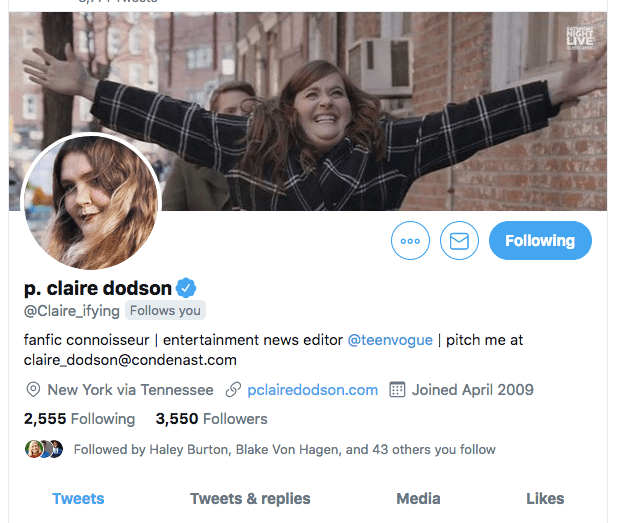 By Lindsey Owen
JEM 414, Fall 2018
Claire Dodson grew up hearing the sound of The Daily Times being printed from underneath a journalist's desk where she would sleep while her father worked.
Her father, Richard Dodson, could be found working in the Maryville, Tennessee, newsroom during late hours when the paper was printing. These late nights would later impact Dodson's career path.
She works as an entertainment editor at Teen Vogue.
Dodson says this is because of the courses, experience, and mentors she had within UT's Communications Building.
Her journey into journalism began during her junior year at Bearden High School in Knoxville, when she took Tim Vacek's elective journalism class. After a semester of learning and writing, she was hooked. From there she went to work writing for The Bark, the high school's monthly newspaper.
Three months after graduating high school, Dodson began working for The Daily Beacon as a freshman at UT. Her first story covered the United Mountain Defense, an environmental group based in Knoxville, far different than her current stories of entertainment news. Dodson as she worked her way up the ranks from news writer to entertainment editor her junior year, ultimately leading to editor-in-chief as a senior.
Dodson was able to take four elective courses in the School of Journalism and Electronic media that solidified her interest in magazine writing: feature writing with lecturer Lisa Byerley Gary, copy editing taught by instructor Bonnie Hufford, and two semesters of magazine production workshop instructed by Pete Finch, a freelance writer and contributing editor at Golf Digest.
Dodson reminisced on the profit she made from a feature written in Gary's course, which she published. She was thankful for the lessons she learned from Hufford, which she was able to apply in her first job at Fast Company.
But Finch remembers how grateful he was to have Dodson in his first magazine course, which produced SCOOP magazine, because he felt as if he didn't really know what he was doing yet as in instructor.
"Claire did a lot of the heavy lifting on the project," Finch said. Dodson was a senior during her first semester working with SCOOP. "At the time, she was also editor-in-chief at the Daily Beacon and working in the editor position for our magazine."
But Dodson's determination did not stop at the student publication level. She began pitching story ideas to national news and magazine publications long before graduation.
"I pitched a story to the Atlantic when I was a senior," said Dodson, who makes a point of saying that she'd be horrified to see what her original story idea was. "The story was published two years later."
April 15, 2016, to be exact was the date. "How Comic Fans Got Their Faith Back" discusses the body-positive Faith Herbert, a telekinetic superhero in the Valiant comic series.
You are never too young to start doing the work, she said. "You don't need to have perfect ideas to pitch stories. There is not some magical level to get to."
She also advises students to never work for free. Dodson was able to make a profit even on class assignments that she pitched to professional publications. During her undergraduate career, Dodson was published in XO Jane, a Time Inc. online magazine, and Fast Company, which refers to itself as "the world's leading progressive business media brand."
In the fall of 2014, while Dodson took her second SCOOP magazine course, she and other students convinced Finch to take them on a tour of New York City magazines.
On the trip, students had the opportunity to meet magazine staff members, like Andy Green, a senior writer at Rolling Stone.
This leveled the playing field in Dodson's eyes. Students in New England universities have the opportunity to tour magazine headquarters all the time because of their proximity. Dodson, a journalism student in the south far away from New York, was determined to make an impression on these New York City writers.
Before the trip, Finch made a point of telling his students they were not allowed to go into these meetings without asking questions of the people who made time to meet with them.
"You can be in a situation like that and come in with a bunch of really obvious questions. Questions like 'How did you get your job?'," Finch said. "I remember feeling like [Dodson] was asking playful but deeper questions."
In addition to the visits scheduled by Finch, Dodson decided to schedule some of her own. She had no problem going off on her own in New York, even taking time to plan the most efficient subway route. Dodson did not need Finch to introduce her to magazine staff, and Finch knew that this meant she was determined to succeed.
"A lot of people have trouble approaching people and talking to people they don't know," he said. "But it's a really important skill to have. I took it as a really good sign for [Dodson]."
Fast Company was one of the magazines on Dodson's list, where she was hired as a writer out of college and worked for just under three years before accepting a job at Teen Vogue in April of 2018.
Now, as entertainment editor at Teen Vogue, Dodson writes about breaking news in entertainment, thoughts on television shows and new films. She knows the lines are blurring for what defines a magazine.
At Teen Vogue, Dodson works with a team of writers to publish between eight to 10 online stories a day. This can consist of the shows and movies that will be on Netflix in the next month or tackling issues of shows misrepresenting an issue, like Dodson's piece on Netflix's original, Insatiable.
Dodson's work explores the intersections between pop culture and news or politics. Following Taylor Swift's public endorsement of democrat Phil Bredesen for Tennessee senator, Dodson and her team wrote several articles about the musician's political statement.
She's come a long way from napping under a journalist's desk.